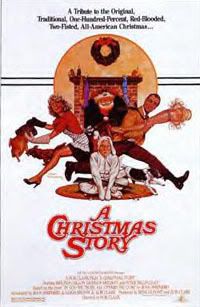 I did not care for "A Christmas Story." Did not care for it.
I know it almost sounds like blasphemy. I mean everyone just LOVES the movie right? I just could not get into it at all, and believe me I've had plenty of times to give it a shot as I'm the only member of my family who doesn't enjoy it. That may actually have helped push me across the limit of just feeling nothing towards it into really just disliking it. I've been forced to sit through "A Christmas Story" almost as many times as I've been forced to sit through "The Wizard of Oz" (Thats a rant for another day).
Ok I admit that there are a few scenes that I don't mind or chuckle at but luckily for me every single one of them is shown in the previews that air over and over and over again, at least they used to. For the record if I were Santa I'd put a boot to Ralphie's face too.
But above all you know why I just couldn't get into "A Christmas Story?"
It insists upon itself, Lois.
So if you need me I'll be spending my Christmas searching for what I consider to be the best Christmas story of all time, "It's a Bundyful Life."